TUNA's Tubular Wet Tube Electrostatic Precipitator Was Selected into the List Of 2019 "Zhejiang Manufacturing Top Products"
2020-01-09 15:49:24
Recently, Zhejiang Province Economic & Information Technology Commission released "The Notice on the Announcement of the List of 2019 "Zhejiang Manufacturing Top Products"", our company's Tubular Wet Tube Electrostatic Precipitator Project on the list!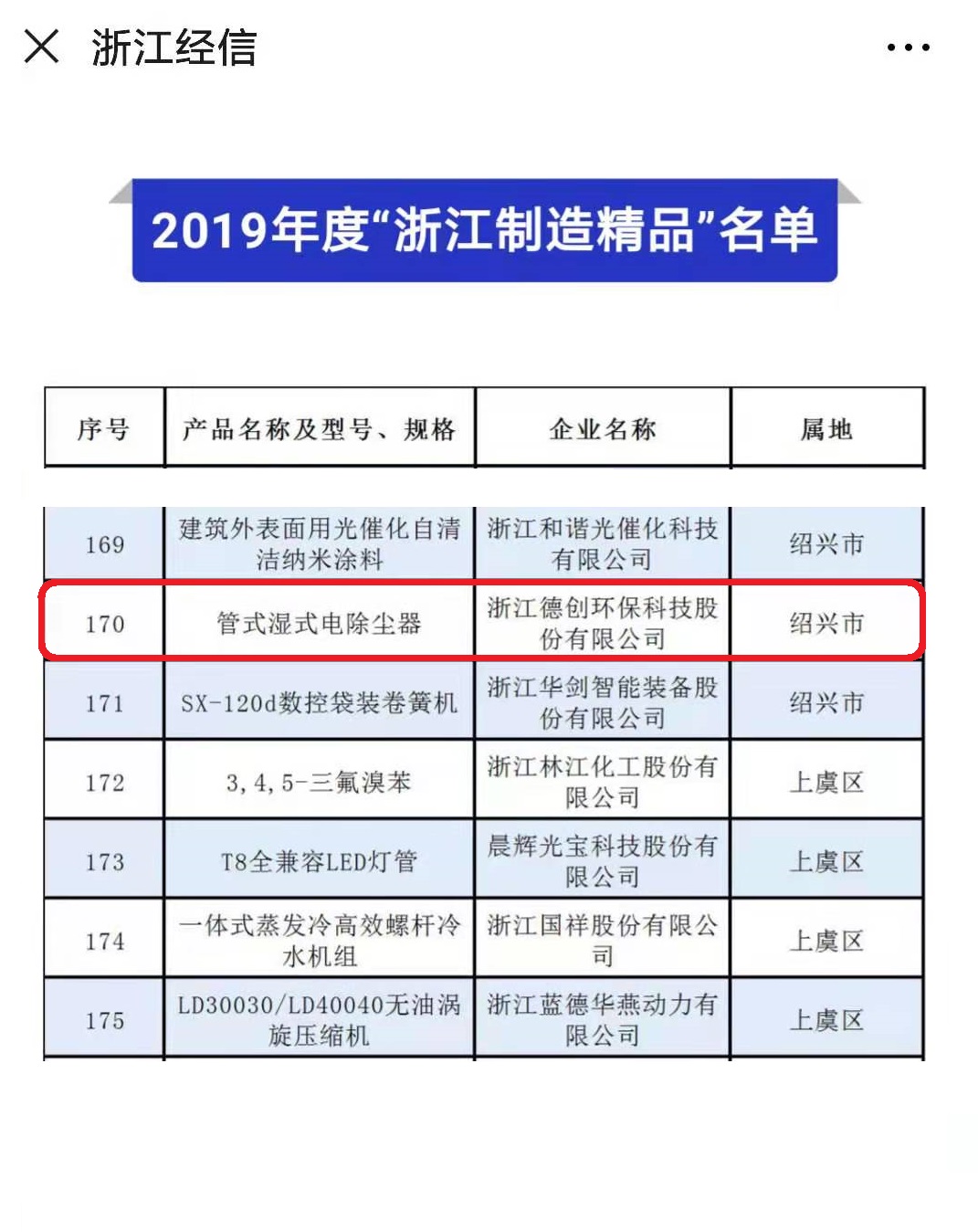 TUNA independent R&D's Tubular Wet Electrostatic Precipitator can efficiently remove tiny droplets, fine dust (PM2.5), SO3 aerosol, heavy metals, such as dust with high efficiency, reliable operation, good cleaning effect, corrosion resistance and other characteristics, has been widely used in electric power, chemical industry, metallurgy, etc. In addition, won the second prize of Zhejiang Province Environmental Protection Science & Technology Progress, Zhejiang Province Excellent New Industrial Products and many other honorary titles, the international advanced technology level, key technology has been authorized 28 national patents!
"Zhejiang Manufacturing Top Products" catalogue is set up by Zhejiang Province to further improve the technological innovation ability and quality management level of enterprises, expand the market, enhance the brand value, improve the reputation and market share of "Made in Zhejiang" products, and enhance the market competitiveness.
This is listed in the "Zhejiang Manufacturing Top Products" catalogue, for TUNA is both positive and spur. TUNA People will as always develop more excellent environmental protection technology products, for the motherland blue-sky project unremitting efforts!